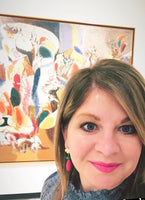 dawn graham designs
hi! i'm sara, the owner of dawn graham designs. i am a toddler mom creating beauty between all of the diaper changes and playdates. trying to celebrate all (ok, most) moments & decorating whatever i can get my hands on!
fun facts: my 3 year old helped design my logo when we were playing with blocks- how cool is that?!
dawn was the best person i have ever known (my grandmother) & dawn and graham are my children's middle names (more of my favorite people).
i hope you love the earrings as much as i do!
get out there & make a statement!!!!